Closing Out 20 Years of Educating, Empowering and Engaging
. . . and continuing that legacy in the new year!
In 2015, we celebrated twenty years of the best grassroots legislative program in th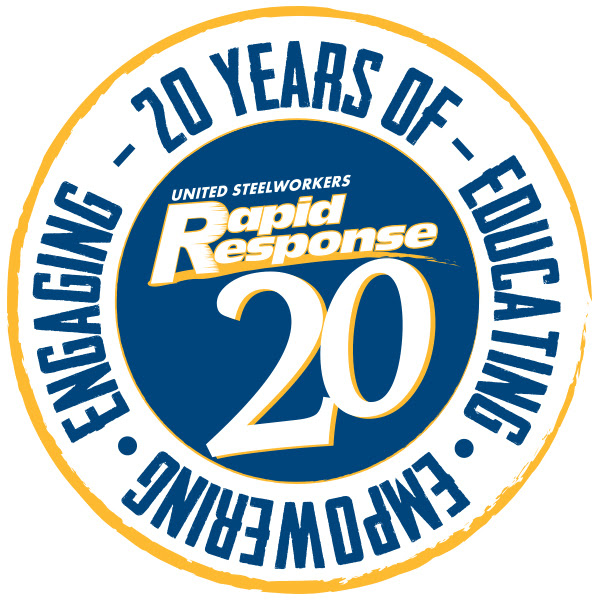 e labor  movement. We take pride in how far the program has come in that time. Steelworkers like you are ensuring our voices are heard in the places where decisions are being made. Join us in reflecting on another year of important work.                         

This year, you:
Carried Out Nearly 40 Different Actions – Whether it was fighting off roll-backs to workers' rights in Pennsylvania, protecting unemployment benefits in Ohio, stalling a bill to weaken workers compensation in Wisconsin, advocating for Buy American in New York or pushing to increase the minimum wage in the U.S. Virgin Islands, Steelworkers were there – over and over again!
Blocked Right to Work – In Missouri, West Virginia, Kentucky, Illinois and New Mexico, you fended off out-of-state, billionaire-backed efforts to undermine our unions. Overwhelming odds prevented victory in Wisconsin, but Steelworkers there are standing strong. We're building on our experience and preparing for the next round in 2016.
Built Support for Key Trade Cases – You engaged in our efforts to challenge unfair and illegal trade. Positive outcomes in these trade cases deliver relief for our domestic industries as they fight to remain contenders in the global economy.
Took on Attempts to Undermine Refinery Jobs – You mobilized to defeat a provision in California that would have harmed our refinery workers there. At the national level, oil workers and other USW members generated 50,000 letters to keep our crude oil here, hand delivering them to lawmakers in places like Louisiana, Texas, Pennsylvania and elsewhere around the nation. We're disappointed that Congress recently delivered a windfall for Big Oil by lifting the ban on crude exports, but our activism will continue.
Mobilized to Repeatedly Beat Back Fast Track – We hit back against every deceptive attempt to advance this bill, keeping votes to the slimmest of margins and even getting it voted down along the way. The effort included hundreds of meetings with lawmakers and tens of thousands of letters and petition signatures. Members rallied, demonstrated and acted again and again. Even though Fast Track ultimately became law, the labor movement and allies showed unprecedented unity and there was union-wide participation, including many Steelworkers taking action for the first time.
Kicked Off the TPP Fight – As we enter into 2016, our eyes are on defending our industries from unfair trade and making sure that the Trans-Pacific Partnership is stopped. We know that this trade agreement will only continue the legacy of lost jobs for American workers and devastation in our communities.
Buckle up, Steelworkers. The coming year is critical. By working together, we will continue to make a difference for the next twenty years. See you in 2016!