The Tax Bill is a Bad Deal. Please Call Your Senators.
It encourages outsourcing, puts more burden on working Americans, and
delivers huge benefits to those needing them the least.
The Senate is expected to vote on their tax bill later this week. Public opinion polls show Americans are skeptical.* That's for good reason.
Massive tax cuts go to those needing them the least, meanwhile working families will shoulder the burden. Under the Senate bill, half of all taxpayers will see increased taxes by 2027 compared to current law.** We'll also have to fight off cuts to Medicare and other benefits that support the middle class when they come looking to reduce the additional $1.5 trillion deficit they've created. And, to top it off, there are incentives for companies that outsource! Check out Senator Sherrod Brown's questions in the clip below, then please start dialing.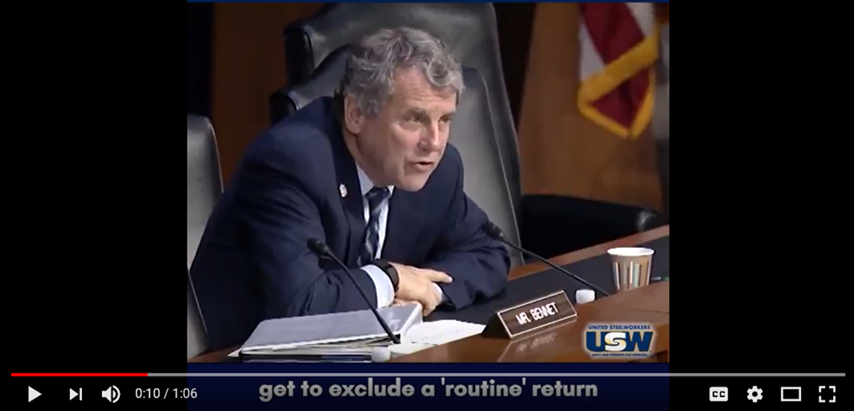 Please oppose this bad deal. Dial 877-607-0785 and share your concerns!
Call your Senators at 877-607-0785. The number will use your zip code to connect you.
Make sure to tell the staff (or voicemail) who you are, where you're from and ask your Senator to oppose the tax bill. We can do better than this bad deal.
Call back a second time to be routed to your other Senator.
*Quinnipiac University poll (released 11/15/17): 52% disapprove, 25% approve; Washington Post-ABC News (released 11/16/17): 50% oppose, 33% support.
**Tax Policy Center analysis of the Senate Tax Cuts and Jobs Act
---
USW Rapid Response  |  412-562-2291  |  www.uswrr.org  |  facebook.com/USWRapidResponse